1961 Christ the King
St. Cecilia's Boys Choir
Click on the picture to see just the smiling - larger - faces.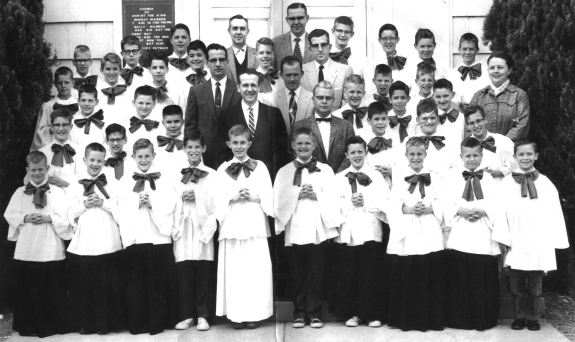 Picture provided by Danny Raddatz

BACK ROW: 1.JoeStankowiez, 2.VinceDonilee, 3.JohnAllen, 4.Mr.JohnCartmell,Sr., 5.Mr.Koop, 6.DannyRaddatz, 7.NedSullivan, 8.CharlesHosack, 9.MikeCrowley.

FOURTH ROW: 1.ChrisNickola, 2.JohnClement, 3.RichardSt.John, 4.PaulKoop, 5.TomSommer, 6.Mr."Cap"Sommer, 7._______, 8.GarySoehnlein.

THIRD ROW: 1.PeterGaskell, 2.RobMurphy, 3.Mr.Frister, 4.Mr._______, 5.LarryHebert, 6.DennisHaskins, 7.PatMurphy, 8.Mrs.AnnClement.

SECOND ROW: 1.TedSommer, 2.____O'Claire, 3.GarlandHuff, 4.Mr.EdHebert, 5.Mr. Len Perkins, 6.PeteCrowley, 7.PatMitchell, 8.John(?)O'Claire.

FRONT ROW: 1._______, 2.JeffCurtis, 3.JackCartmell, 4.DavidHokanson, 5.KenKraemer, 6.JohnPierce, 7.KerrySullivan, 8.KarlSoehnlein, 9.LeonardPerkins. 10.GregFrister.




page started: 06/06/99
page updated: 05/11/04

Email the webmaster
1961CK-ChoirBoys