Vanished School Holds Memories
Tri-City Herald, June 5, 1988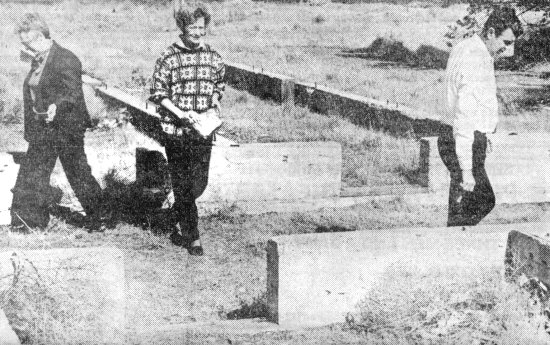 Three members of the John Ball Reunion Committee survey the foundations of the old North Richland school that served youngsters in the 1940s and 1950s. A reunion for all those associated with the school is scheduled for August in Richland. Gwen Bray, left, and Lee Johnson (54), right, both of Richland, attended the old school; at center is Irene Johnson, Lee's wife.
Article provided by Gary Brehm ('64 Lion)



Foundation of John Ball all that Remains
---------------------------
By Gale Metcalf
Herald staff writer
--------------------------

If you were a youngster attending school in North Richland back in the last 1940s and early 1950s, the name John Ball will be familiar to you.

John Ball School, near the Columbia River not far from today's headquarters of the Washington Public Power Supply system off George Washington Way, was where you attended school if you lived in the trailer camps that made up what was then known as North Richland.

Your old school is gone now, leaving just a foundation as part of its reminder, but your memories and the memories of your classmates remain.

From August. 12 to Aug. 14, a reunion for John Ball students, teachers, staff members, parents and siblings of those who attended the school will be held at the Shilo Inn - Rivershore in Richland, committee members said.

"So far, we have the names of 566 people," said Irene Johnson of Richland, a committee member who's husband, Lee, attended John Ball. "We figure we're looking for 10,000 people, there were that many trailers in and out of there," she added.

The reunion is to include a no-host social time the first night. The second night will feature dinner, a program, and music and dancing. There will be a catered picnic in Howard Amon Park on the third day of the reunion.

Memorabilia will be displayed during the reunion, and a photographer will take individual, group and class pictures, the committee members said.

John Ball School, named for the man who organized and taught the first school in the Oregon Territory, opened Feb. 16, 1948, with a principal, 11 teachers and 60 students. It closed June 30, 1955. The school served students kindergarten through eighth grade.

"When I was out there in the seventh grade we had half-day school because there were so many kids," said Gwen Bray of Richland, another committee member.

Among those already planning to return are former principals Winfield Fountain and Erick Soderberg, the widows of former principals Raymond Lamb and James LeClair, one of the school's PTA presidents, Louise Creighton, who later became state PTA president, and some of its earliest students, Johnson and Bray said. "We have located the first student who enrolled in the school in kindergarten - Sharon Johnson, who's lifing in Medford, Ore., and she's coming," Bray said.

The school, which consisted of 12 Quonset huts linked by a corridor one-eithth of a mile long when it opened in 1948, catered to kindergarten students right up until it's last year. Bray and Johnson calculate that former students range in age today from the 30s into the 50s. "We figured the youngest person who could attend would be about 38," Johnson said.

Bray, the oldest of five brothers and sisters, said three of her siblings also attended the school, but the two Richland women stressed that even brothers and sisters who did not attend John Ball are encouraged to attend the reunion. "We want to include them in the reunion as well, those who lived in North Richland were bussed into town," Johnson said.

There will be many memories to recall, the women said, but based on questionaires the committee is receiving back from those who plan to attend, air raid practices is the most remembered experience of attending achool at Jonn Ball. "Everyone remembers the air raid practices," Johnson said. The practices required students to run from the school to the shelter of a nearby ditch, Bray explained.

Parents of many of the students still live in the Tri-Cities and the school reunion is and can serve a dual purpose, the women said. "Some of the people are using it as a family reunion," Bray said.






page started: 01/06/99
page updated: 05/30/02
Email the webmaster
JOHN BALL REUNION