May 5, 2001
Picture "snarfed" from the Tri City Herald (Online)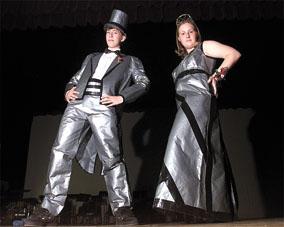 Eric Edvalson (2001) and Rachel Call (2001)
Prom outfits made with Duck Brand Duct Tape



This story was published 5/5/2001
Sticky Style
By Genoa Sibold-Cohn
Herald staff writer

Rachel Call wasn't envisioning chiffon or velvet for her prom dress. The 18-year-old Richland High School senior had something a little more unusual in mind -- duct tape.

At tonight's prom at the Shilo Inn in Richland, she will be wearing a dress and tiara made entirely from black and gray duct tape.

Her date, Eric Edvalson, also an 18-year-old senior, will be sporting a black and gray duct-tape tuxedo, complete with tails, a cummerbund and top hat. Like a more conventional tux, comfort isn't his garb's chief appeal.

"The pants feel like you're wearing a space suit," he said.

But Call and Edvalson aren't just trying to be different. They're hoping their spiffy duds will bring a big payoff.

A week and a half ago, Call got an e-mail about a scholarship offered by Duck Brand Duct Tape. The nationwide contest, Stuck at Prom, asks high school students older than 14 to make prom outfits from duct tape, then wear them to the dance.

Duck Brand Duct Tape will then award three $2,500 scholarships -- one each to the winning couple and the third to the school that is host for their dance. The couple must send their prom picture and an entry form to the company before June 15.

Visitors to the company Web site can vote for their favorite outfits from June 1-15. The winners will be announced around July 1.

Call and Edvalson hadn't even made plans to go the dance when she found the scholarship information. But once she told him about the contest, neither could resist, Call said.

It's her first formal event and Edvalson's first trip to the prom.

They spent 25 hours and $85 making their outfits at a friend's house in Richland. They layered two sheets of tape by pressing the sticky sides together as they created their outfits. Each one weighs 4 pounds.

They used five and a half 50-yard rolls to make Call's dress, seven rolls for Edvalson's tuxedo and another roll for the top hat.

The outfits are complete with a red, green, black and gray boutonniere for Edvalson and a corsage for Call.

She's still debating the merits of a garter to complete her outfit.

There is a minor problem with their garb -- it's hard to move or bend over. That means dancing could be a chore.

"When I move at all, it (the dress) just rests on the floor and rustles," said Call, who hasn't yet tried sitting down in it.

And because they can't move very well in their outfits, they are thinking about taking a Dial-A-Ride bus or having their parents drive them to the dance.

"They're going to say we're not taking you to the Shilo," Call joked. "We're taking you to (a psychiatrist at) Carondelet."






page started: 05/05/01
page updated: 05/29/02
E-mail the webmaster